Schedule for Pyungkang Cheil Online Summer Conference
Conference Theme: "Let us receive the blessing of Jehovah-Shammah that encamps all around and protects us." (Ps 34:7, Ezek 43:12, 48:35)

Date and time: July 26 (Lord's Day) ~ 29 (Wed), 2020

26 (Lord's Day) – Opening Service
27-28 (Mon, Tue) – Lectures
29 (Wed) – Closing Service (Wednesday evening service)
The times are reflected as Singapore Time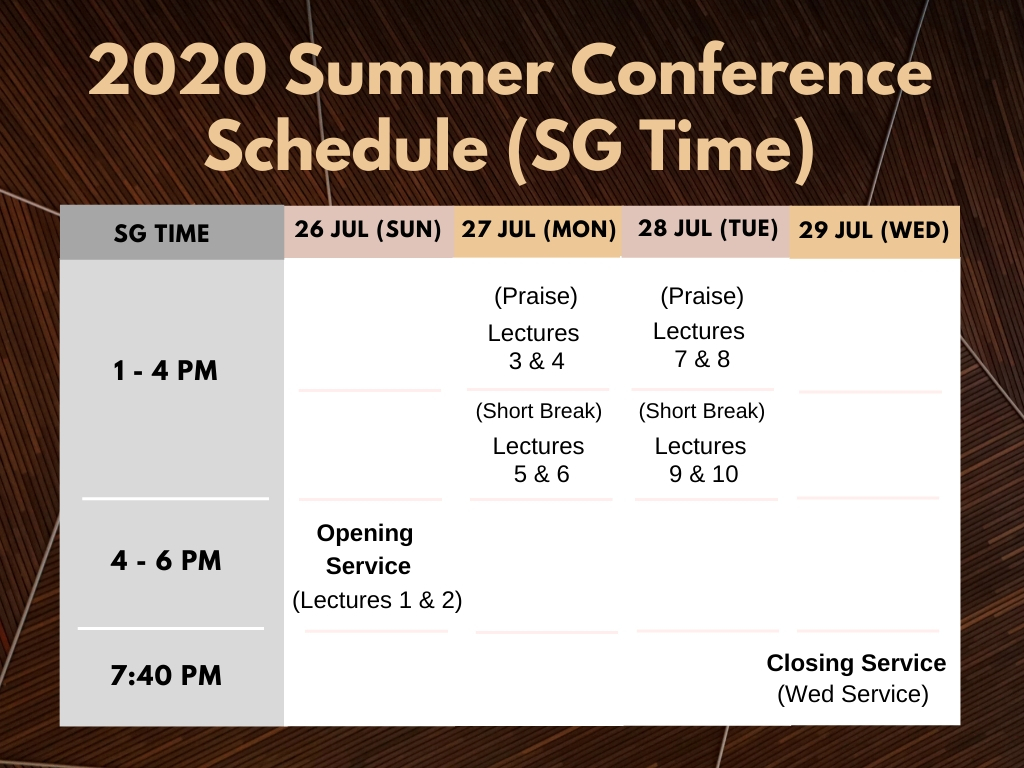 We encourage all church members to attend the conference online. We will join in for the opening and closing services, and thus will not have Lord's Day Bible study and Wednesday Service separately at Zion Church during the week of the conference.
Digital Study Booklet (S$12 per attendee)
There will also be a digital study booklet sold for S$12.
Please contact Eldress Joyce to order and send your payment to our church finance account..
OCBC Bank Account: ZION CHURCH
Account#: 621835867001
PayNow UEN#: T00SS0141D
Specify Name, Purpose and Date of payment in the MEMO or Bill Ref.no. section.
Eg. "PaulTan SC 18JUL20"
SC = Summer Conference
You may give cash to Eldress Joyce and she will record your purchase, and return a receipt upon request.